from: http://www.mrsolar.com/grid-tie-solar-power-systems/
Grid-tied, or grid-connected, solar photovotaic electric systems use light from the sun to generate electricity that can be used to power homes and businesses. These systems are designed to offset utility power usage and to compensate system owners for any excess wattage their systems produce through an arrangement known as "net metering".
Grid-tie solar power systems can be operated from the roof of a residential home or the roof of a business. They can be mounted to the ground as well, such as many of those operated by community solar coops and companies. Because these systems do not include a battery bank to store energy produced by a solar array, they will not operate when the main power grid is down, such as during a storm, and they will not power your home or business during such an outage. 
IMAGE: Diagram depicting a grid-tie solar electric power system connected to the main power grid.
What equipment do I need?
Grid-tie electric systems combine a solar panel array with a grid-tie inverter and a couple of other electrical system components to create electricity that is then fed to the main electrical grid. A typical system includes the following components:
MidNite Solar Surge Protector
MidNite Solar Combiner Box
Delta Lighting Arrestors
Wiring & Cables
Fuses & Breakers
Mounting System (Roof or Ground)
WHAT SIZE SYSTEM DO I NEED?
In order to estimate the size solar power system you will need to gather some information that will help in making this calculation. Okay, let's begin…
STEP ONE – Your Monthly Average Usage
The first thing you need to do is either gather up your current paper electric bill or open your electric company account in a web browser. Once you have acquired your billing information, find your average monthly electricity usage.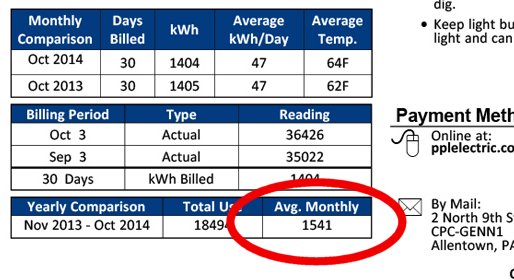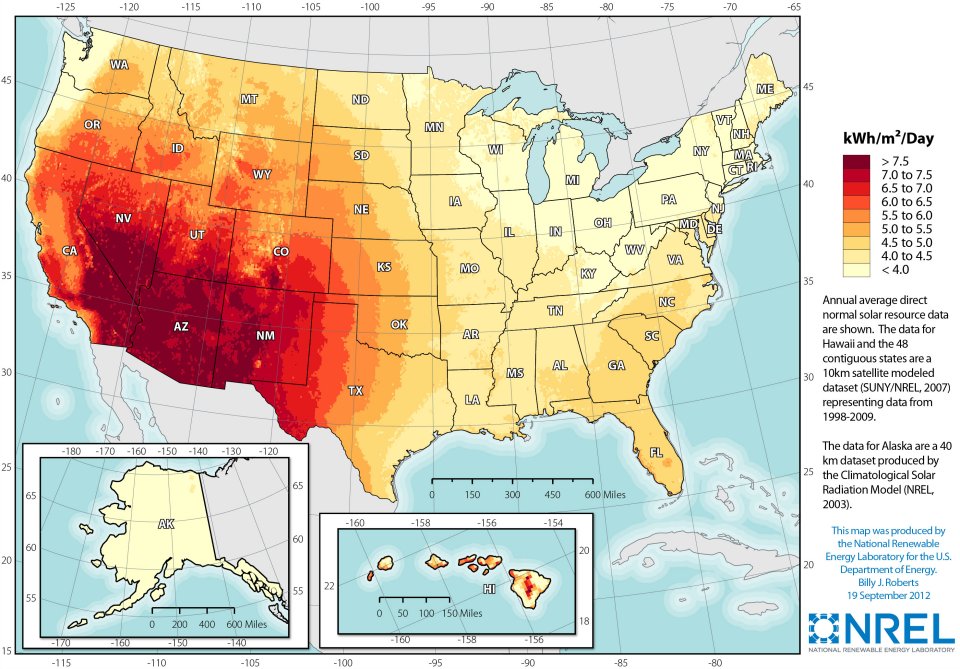 STEP TWO – Peak Sun Hours
This is perhaps the most important factor that must be considered when sizing your solar power system.
Using the map to the left (click on map for larger view), find your location and take note of the color within which it is located. The corresponding color in the map legend will indicate the number of peak sun hours for your location.
Understand that "peak sun hours" is not the same thing as total daylight hours. When speaking of solar, only the hours when the sun is highest in the sky and hitting the array at a perpendicular angle, and producing the most electricity.
STEP THREE – Choose System
Using the color of your location above, find the row that matches in the image to the right.
In this case, from STEP ONE we see an average of 1541 kWh. Let's say you live in Dallas, TX, which has a peak sun hours value of 4.5. Then let's say you want your solar power system to produce half of your monthly usage of electricity. That means you would need to choose the GTS-24 which will generate 788 kWh of power in Dallas.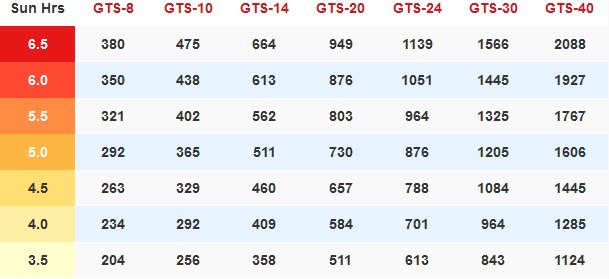 If you already have an idea what size solar power system kit you need, please browse our selection of Online Solar Grid Tie Solar Power Systems below to see if we have a pre-packaged kit that is suitable for your needs and we'll ship it directly to your preferred location. If one of our kits does not meet your needs, we can help you design your system and/or supply all the components and ship them to you fast. We provide solar electric systems for the military, government, utility, oil & gas, commercial, industrial, agricultural, and residential.
---
Post time: Jul-31-2017